In order to get an education loan in India from a bank, the
procedure is quite simple. The first step is ensuring that your loan is
sanctioned without any complications, for this ensure that all the required
documents from the list below are kept ready in advance. Before you apply for
an education loan,here are some points to take note of:
1.Other charges-A small one time fee at time of sanction
of education loan maybe levied on the customer known as the processing fee,
which is equal to 1-2 % of the loan amount. On the other hand id you wish to
foreclose the loan by making payments in advance a fee called as pre payment
fee is charged to the customer. It is in the range of 3-4% of outstanding
amount .
2.Interest Rates vary from 11% to 15% p.a by most city
banks.
3.Tenure of loan can be anywhere from 5 to 7 years
4.Most loans are for a minimum amount of 50,000.Maximum
amount is in the range of 10-15 lacs for studying domestically and 20-25 lacs
for international studies
5.All banks offer a grace period of 1 year after
completion of a course or 6 months after getting a job, whichever is earlier.
After which your monthly EMIs will begin
6.Its important for Indian students who avail loans for
domestic colleges to check if the institute has credentials with UGC or
AICTE,if not if will be harder to get the Education Loan sanctioned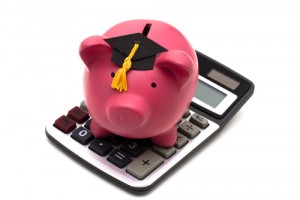 MARGIN MONEY
Most banks ask the customer to put up a certain amount of
money toward the loan, which is known as margin money. If margin money is 50%
on a loan of 10 lacs means that the customer puts up 5 lacs and the bank puts 5
lacs. Every remittance will be 50:50,there will never be a time when the bank
will remit an amount more than the amount you put up.
As a norm, margin money is asked if the loan amount  in question is above 7.5 lacs and
margin
%  ranges from 10-20 % depending on the
bank.
LENDER LINKS
List of banks that offer education loans wither thier respective online forms:
DISBURSEMENT
For Education Loan, Funds
are disbursed directly to the university by providing the banking information
and swift code number of the University, This remittance is for the tuition
fees, and a detailed periodic disbursement chart has to be given to the bank in
advance, the bank will disburse the funds accordingly. Depending on the terms
of Education loan, it may be used to cover other payments besides tuition fees
like examination fees, books, laptops travel expenses etc. All these payments
and other personal expenses may be disbursed at regular intervals
CO-APPLICANTS/GUARANTORS
It is important for
anyone associated with the loan to have a good source of income, as most loans
may require to be supported by a primary or secondary co –applicant. For loans higher
than 7.5 lacs banks will also ask for a guarantor. A salaried person is always
a good bet as they will have to furnish their salary slips along with other
financial details like house papers and bank information.
DOCUMENTS
1.For salaried people-applicant or co-applicant, latest two salary slips and offer
letter from company
2.Latest 6months bank statements
3.Age proof
4.Identity Proof
5.For Self employed people-Last 2 years ITR papers, audited balance sheet of profit
and loss, bank statements
6.Residence Proof
7.Completely Filled Application Form
8.Offer Admission Letter from University along with all Course details.
9.Passport size photographs
TAX  BENEFITS
As per the UGC norms, under
section 80E,a maximum limit of 40,000 per year maybe deductible. This is only
after repayments have commenced on the Education Loan and may carry on for 8
years. These apply only for courses at graduate and post graduate level may be
eligible for tax rebate.