BAMS – Bachelor of Ayurvedic Medicine and Surgery
In order to get admission into many medical colleges that offer BAMS,you need to give the NEET exam.There are other state level exams also that are easier to get a rank in.These are:
Goa CET – GCET
AP EAMCET
TS EAMCET
Remember that getting a good merit score in any of these entrance exams is hard,but it is the only way you will get a seat in a cheaper government aided institution. The other way is to opt for a private college but these are expensive,and considering it is a long course,be prepared to shell out a huge amount.
About the course,subjects and syllabus
This course runs for 5 and half years.This consists of 3 professional years pf 12 months each followed by the final year of 18 months.This 18 months includes the mandatory internship of 12 months in a live on the job setting.
Some of the subjects are:
Padartha Vigyan Evam Ayurveda Ka Itihas
Kriya Sharira
Maulika Siddhanta Evam Ashtanga Hridayam
Rasashastra & Bhaishajya Kalpana
Charaka Samhita (Purvardha)
Prasuti Tantra & Striroga
Kaumarabhritya
Panchakarma
Research Methodology & Medical Statistics
Eligibility and fees
In order to get admission into a BAMS college,you need to have cleared the class 12 boards with PCB subjects with not less than 55%.Many colleges also ask for you to have cleared the respective state medical entrance test,as shown above.
FEES – Most colleges charge anywhere from 2 lacs per year in a private college.If you get a free merit seat,this is almost half the amount,but that is very hard to get,because there are very few free seats in government colleges and only the toppers in the entrance exam can claim those.
BAMS Vs BHMS
BHMS is the equivalent degree homeopathy and is on level with MBBS and BAMS.Many people prefer Ayurveda compared to homeopathic because homeopathic medicine takes more time to heal the patient and trial and error of the correct drug needs to be done.
Both BAMS and BHMS are good courses,but remember they can only be used to treat patients with minor diseases.For more resitant forms of viruses only alopathic drugs can cure them.
If you have a choice of doing either BAMS or BHMS,its better to go for BAMS as these are globally used even in western countries and are made from natural ingredients found in nature.The best part of these medicines is that they have no side effects and cab safely be consumed by people have multiple ailments as well.
FUTURE CAREER SCOPE AND SALARY
One of the best ways to have a long and successful career as an Ayurveda doctor is by having your own private practice in a clinic.For starters you do not need to rent or buy your own space,but better to join n existing doctor and use his/her clinic for a few hours in a day.This way both of you can use the premises at different times.This is called a polyclinic.
When you are a fresher and just receive your degree,you need real world experience,you cannot simply start your own practice. Either take up a job in a hospital or under the guidance as an assistant to another doctor and learn for a few years.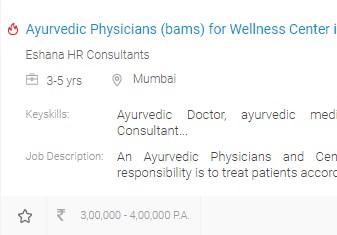 If you take up  job in a corporate medical company there are endless opportunities. Remember you will be treated on par with MBBS for many of these jobs.
With little experience of 2-3 years,you can easily rake in atleast Rs.35,000 a month.
Some of the places you will get a job are:
Wellness centers
As a Medical Officer
In Regrow Therapy
Patni Healthcare
Regenerative Medical Services
Erickson Healthcare
Patanjali
Conclusion
BAMS is a great degree and is second to only MBBS,that too only in a few ways.For most sales and marketing jobs there is no distinction between BAMS,BHMS and MBBS.All are hired at more or less the same salary and the job profile is the same for all of the candidates.