COMEDK UGET 2018 – Eligibility , Dates and Registration
COMEDK UGET 2018 – Eligibility , Dates and Registration – The consortium of Medical,Engineering and Dental colleges of Karnataka undergraduate entrance exam dates are as scheduled below.The eligibility for the entrance exam as well as the procedure for registration which starts in the month of January until April is open now.Follow the registration format below and proceed.
For application online process and fees click here
COMEDK UGET IMPORTANT DATES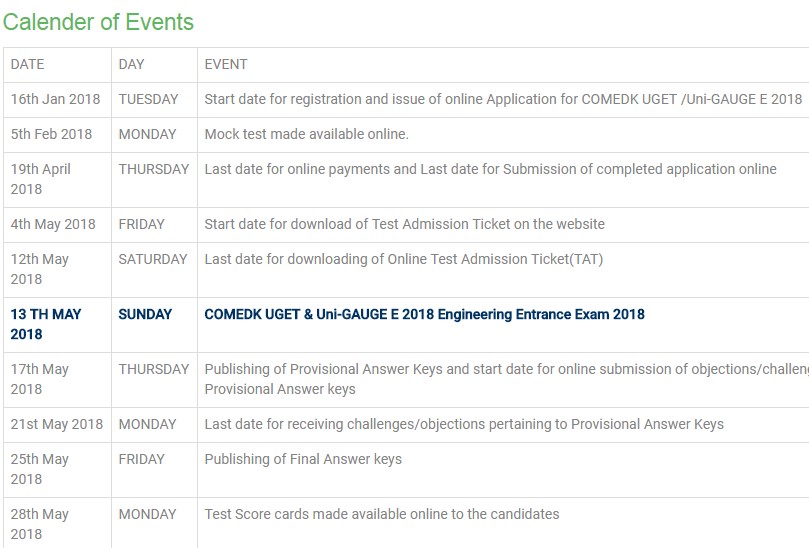 COMEDK UGET 2018 – Eligibility , Dates and Registration
COMEDK UGET Eligibility
FOR UG ENGINEERING COURSES
a) The qualifying examinations prescribed for admission for B.E. is second PUC or 10+2 Higher Secondary or equivalent examination recognized by State / Central Government; the last two years of study shall comprise of Physics, Chemistry and Mathematics with English as a compulsory subject.
b) The General Merit candidates should have passed with a minimum aggregate of 45% marks (40% in respect of SC, ST and OBC candidates of Karnataka State) in Physics, Chemistry and Mathematics and should have passed these subjects individually. Physics and Mathematics are compulsory subjects along with Chemistry or Bio Technology or Biology or Computer Science or Electronics as one of the optional subjects. However, changes, if any, in the eligibility criteria by the AICTE will be adopted.
c) An attempt in the COMEDK Entrance Test seeking admission to Engineering courses is considered adequate for figuring in the rank list.
d) Diploma candidates are not eligible to take the Entrance Test as there are no lateral entry admissions.
Note: The candidates shall submit the original marks card of the examination during counseling for proving their
eligibility vis-a-vis marks scored as evidenced by the original marks card
FOR UG ARCHITECTURE COURSES
a) The prescribed qualifying examination for admission to B. Arch course is second PUC or 10+2 Higher Secondary or equivalent examination with Mathematics as one of the subjects along with other subjects or a 10+3 Diploma recognized by Central / State Government and having obtained at least 50% marks in aggregate (45% in the case of SC, ST and OBC candidates of Karnataka).
b) The candidates should have appeared for National Aptitude Test in Architecture (NATA) conducted by the Council of Architecture with a minimum score of 80 out of 200 marks for both General Merit and Category students.
c) There shall be no Entrance Test for candidates seeking admission to B. Arch Course.
d) Candidates seeking admission to B. Arch course shall submit separate application form for counseling as per the notification on COMEDK website (will be made available before counseling)
Note: Notwithstanding the eligibility criteria mentioned as above, the changes, if any, effected by AICTE, VTU, COA or any other competent Regulatory Authorities shall be adopted mutatis mutandis. Rank Card will be generated only for those candidates who become eligible for admission to under Graduate Courses as per the regulations of AICTE / VTU.
COMEDK UGET REGISTRATION
REGISTRATION AND PROCEDURE FOR MAKING APPLICATION
The Candidates have to register themselves at www.comedk.org. The candidates may access the How to Apply Document, general instructions and the explanation for filling the required fields through the link in the website www.comedk.org. However, these instructions are reproduced as under.
GENERAL INSTRUCTIONS FOR REGISTRATION
a) All the details asked for in Registration /Application form are Mandatory.
b) E-mail ID and mobile number should remain the same till the Admission process is completed
c) An Email ID once used for Registration online cannot be used again.
d) Details given at the time of registration cannot be edited later on in the application form. Please review all details entered at time of registration before CLICKING ON SUBMIT BUTTON and proceeding to application form.
e) After successful registration, you will receive the User id and Password on your Mobile Number and E mail id which is unique & system generated. Log in with your unique USER ID and PASSWORD to complete the application process. Click on EDIT button (Right hand top corner) to be directed to Application Form
f) Kindly use Internet Explorer(version 7 to 11) or Mozilla Firefox(14 to 34) or Google Chrome(20 to 36) to fill in the Application Form. Also clear your browsing history and cache and retry in case you are facing any technical issue in viewing the details in application form.
EXPLANATION OF FIELDS IN REGISTRATION FORM
a) Name of the Applicant: Enter your full Name (as it appears in your SSLC/10th Std Marks Card),
In the case of a candidate who has changed his/ her name for any reason, the original proof of the same has to be produced at the time of admission.
b) Date of Birth: DOB to be entered as per 10th /SSLC Marks card only.
c) Email-ID: Enter your valid Email ID for all correspondence.
d) Mobile No: Enter your Mobile number.
e) Applicants Unique ID Proof: Select the ID proof that the candidate will bring in original at the time of exam and admission process from the list provided.
? APPROVED LIST OF ID PROOF FOR CANDIDATES;
(i)Voter ID, (ii) Passport, (iii) PAN Card, (iv) Driving License, (v) Aadhar Card and (vi) School / College Photo ID
? The scan copy of the same has to be uploaded in the application form. The candidate has to use the same ID proof that is mentioned in the application form, till the entire admission process is complete.
? In case the candidate has selected "School / College Photo ID" , then he/she must carry the below mentioned documents during examination and admission at the college level:
i. "School / College Photo ID" in original and
ii. Photocopy of the same (School / College Photo ID) attested by the principal of the institution last studied (2nd PUC/12th STD).
? CAUTION: ANY ID PROOF OTHER THAN WHAT HAS BEEN DECLARED WILL NOT BE ACCEPTABLE FOR THE TEST /ADMISSION AT COLLEGE LEVEL
f) Applicants Unique ID Proof Number: Enter the Unique ID proof number as mentioned in the ID proof selected, ifapplicable. For instance, if you have declared ID proof as driving license and your ID proof number is 'KA01 20110001212' enter the ID number as 'KA0120110001212'