Diploma in Pharmacy Course in India
Diploma in Pharmacy Course in India – Also known in short as D.Pharm, this Pharmacy course can be broadly classified as an offshoot of allied healthcare careers alongside Paramedical courses, B.Sc Biotechnology and Medical Laboratory Technical courses.
There is also a B.Pharm which stands for bachelors in Pharmacy.The advantage of doing a diploma in Pharmacy compared to a bachelors course is that the admission process is direct,whereas for bachelors in Pharmacy you need to go through the Medical CET of your respective state entrance exam in order to get allocated a seat.This is very hard to get into a good college as the competition is too much.
The topics you learn in Diploma in Pharmacy is almost the same as that of you learn in the degree course,and you learn it in a shorter span of time.
Types of Pharmacy courses
The major difference between the D.Pharm course and other courses is that D.Pharm is a vocational course and is consumer specific.
In this article i will be telling you details specifically related to D.Pharm,but in addition to D.Pharm,there are other Pharmacy courses which are non vocational and industry oriented.These pharmacy courses are Bachelors,Masters,Doctor and Ph.d.

What is D.Pharm and why is it so important ?
Diploma in Pharmacy is needed as per the government regulations in all states of India to operate a Chemist or Pharmacy.It is a mandatory condition to employee atleast one employee who has a degree or diploma in Pharmacy to dispense drugs / medicines.
According to law only this authorized pharmacist person has the legal right to sell a medicine to a customer.
Other than dispensing drugs,a pharmacist has to also:
Check stocks and inventory of supplies in the shop
Give correct medications as written on the prescription
Tell the patient the dosage and timings to take each medicine as shown in the prescription by the doctor.
About the D.Pharm Course
The two year course is divided into part one and part two,each having two examinations per year.Part 3 is the third year which is industrial or one job training,which is sort of like an internship and is called as "Apprenticeship".
After successfully completing the Part 1,Part 2 and Third year Apprenticeship,you will receive your Diploma in Pharmacy.This will allow you to either in a pharmacy store or start your own store.
Some of the subjects you will study in Diploma of Pharmacy course are:
Part 1
Pharmaceutics-I
Pharmaceutical Chemistry-I
Pharmacognosy
Biochemistry & Clinical Pathology
Human Anatomy & Physiology
Health education & Community Pharmacy
Total
Part 2
SUBJECT
Pharmaceutics -II
Pharmaceutical Chemistry – II
Pharmacology & Toxicology
Pharmaceutical Jurisprudence
Drug Store & Business Management
Hospital & Clinical Pharmacy
ELIGIBILITY AND FEES
Some universities have a D.Pharm after 10th and some have it after 10+2.Whichever board exam you just appeared for – 10th or 12th,make sure your have scored at least 55% in PCB taken together.
Fees range from Rs.55,000 lac per year to 1.3 lacs per year.The private Universities like Sharda etc are more expensive.
Lateral Entry into B.Pharm
Just like in engineering whereby the diploma students can join into second year degree engineering college,here also,After completing the full course of D.Pharm,you can take admission into a B.Pharm course directly into the second year.
If you prefer you can take fresh admission into the first year of B.Pharm,which is also an option.
Jobs you can get after doing D.Pharm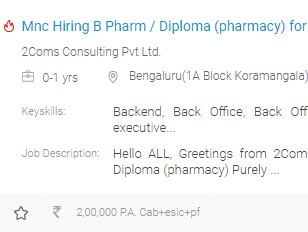 Some of the careers that you can be hired for are:
Medical Coder
Pharmacovigillence
Clinical Trials
Pharmacist in Government/Private Hospital
Sales representative for Pharmaceutical companies
Some of the companies that can hire you are:
AS Medical Coding
Alpha medical coding
Orion Edutech
Platinum Healthcare
Resolve Medicode
Courses after D.Pharm
M.Pharm – Masters in Pharmacy  is a two year course that can be attempted after doing the  B.Pharmacy Course.Since the B.Pharm course is four years long,you need to have a good final percentage in the last two semesters of B.Pharm in order to get admission into a M.Pharm course.You can take up a specialty subject like Pharmacology,Pharmaceutical chemistry/Analysis etc and get your Masters degree in any one of these .
Conclusion :
D.Pharm course is great if you want to get into the pharmacy industry directly after finishing your class 10.It has great potential especially if you have a family business chemist or a trade related to medicinal drugs.
Even if you do not have a pharmacy related business but want to learn all the concepts fast,this is a good way to start.After this you can easily get into second year B.Pharm through lateral entry scheme.