How to become a Pilot after 12th
How to become a Pilot after 12th – Its every kids dream to become a pilot when they grow up.If you are in junior college now or even finished class 12 science.
Here is your chance.I will give you a list of institutes as well as the eligibility to join up for the flying courses so you can be on your way to get your commercial pilots license.Also known as CPL.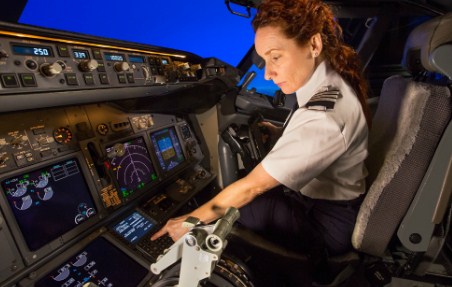 When you join a flying club or training institute,they will give you 200 hours of flying experience in a single or twin engine aircraft which is mandatory by DGCA to get your CPL.
Also there are a few theory papers that you need to pass to test your knowledge on instruments and regulations.This pilot examination is not very hard and can be cleared.
Things to consider before you join a flying school
Before you make a decision of joining a flight school read these TWO important considerations:
COST – I know few people who have taken huge loans to cover the costs of flight training.Some of them put their parents property as collateral and take the loan also.So much is the obsession with becoming a pilot that they will do anything to achieve it.think-  is this worth it?are you willing to risk your house if you cannot make the monthly bank payments on time?
EMPLOYMENT – Above you maybe thinking – yes i will be earning lakhs per month as soon as i finish flight school,there will be no problem in paying back the bank loan.the truth couldn't be further – There are lots of unemployed youth – fresh out of flying academies and not enough jobs for openings in the airlines.
The only openings are for Captains,and not for first or second officers.Remember this.Getting to the captains positions will take you many more years of actual flight experience.
So do not be under the impression that there are lots of jobs waiting for you as soon as you graduate.It could take 4-5 years for you to secure a job with a commercial airline.
For non science students
For students who have not done science in their 10+2 , they can goto the NIOS  – National Institute of Open Learning and get a certificate course done from there.
+Read  Best Flight Schools in USA
+Read How to become an air hostess /pursor
+Read How to become an Airline Maintenance Engineer
+Read How to Join the Indian Air Force  as Flying officer
WHAT IS PPL,SPL AND CPL
SPL is Student Pilot License,which is required when you enroll as a student in a flying school.It is the first step in order to get your CPL
PPL is a private pilot license,means you can fly a small plane like Cessna 172 for fun or for a hobby.Many Hollywood actors have this license and fly their own small privately owned planes.You too can do this if you only want to fly without earning any money for it- non commercial.
CPL is the commercial pilot license that you need to get a job in an airline like Lufthansa, Cathay Pacific or air courier service like FEdex, DHL.
By the way, Actor John Travolta has a CPL and is one of the only celebrities to have that license,and he does not own a small plane,he has  a huge Boeing 777 and parks it next to this house,complete with its own runway!
Eligibility to become a commercial Pilot
First you need to get your SPL before you can go on to get your CPL.
you must be at least 16 years of age to get your SPL
You should clear your class 1 medical exam performed by a doctor appointed by DGCA
You need 10+ in science with maths and physic or do it from NIOS
Excellent vision 6/6 both eyes
Pass the personal interview
Valid documents-passport,education certificates
What will you learn in a flying school
Some of the various things you will experience and learn in a flying school are:
Practical –
185 hours on a single engine plane
15 hours in a multi engine plane
20 hours in a real time flight simulator
Theoretical subjects
Air regulations
Technical specifics
Theoretical Simulations
Radio Telephony
Meteorology
What is Type Rating
This is the most important and expensive part of your training so read it carefully.
The flying school will train you to get a CPL in the aircraft that you are trained in –  meaning a Cessna 172 (mostly).This is a small plane,single engine and not enough to get  you a job as a Jumbo jet Pilot or any big commercial carrier.
So what do you do?
You can do the on job training when you sign up with an airline.You either pay for it upfront,which costs another 25-35 lacs or you choose to have it deducted from your monthly salary over a period of time.
So "Type" rating,is which "type" of jetliner you are flying.
About the CPL training course
After you get admission into a flying school,it will take you about 18 months to complete all your ground training in simulators as well as the 200 hours of practical flying.
Ground training consists of flying simulators and theory lectures like an other college course.This is the easy part,the practical training is most important.
What is the training cost to become a pilot
FEES to GET A commercial pilot license
There are various fees that Indian flying schools will charge you.Note that type rating fees will not be charged by the flying school but you will pay for it later after completing CPL training and get a commission into an airline.
Admission fees – approx Rs.25000
Medical Tests – Rs.7500
Tuition fees – Rs.1.25 lac
Flying fees – 200 hours @ 6500 per hour – 13 lacs
Type Rating fees (later) – approx 25 lacs
Total fees = 42-50 lacs approx
How much can you earn as a commercial pilot?
Here is an approximate salary index of pilots in India.
ABOUT THE THEORY EXAM
For Pilot license you need to give a total of 6 papers,some of which are done online and others are OMR based.You can register for the written paper here. however the flying school you doing your training will help you out with the entire procedure.
This Pilot examination is hep four times a year in January,April,July and October
There is a total of 5 papers by the DGCA and one by the  Ministry of Aviation.
The subjects you need to study for this exam are –
Air Regulations
Aircraft General Knowledge
Flight Performance and Planning
Human Performance and Limitations
Aviation Meteorology
Air Navigation
Operational Procedures
Principles of Flight
COURSES after CPL
You can either do a :
Modular IRA  or Modular Instrument Rating course- This teaches you various aspects of flight instruments,meteorology, Radio navigation and Flight planning.
MEP – Trains you in various subjects related to Multi Engine aircraft.You will learn Engine systems,Fuel systems,Air-frames
ATPL – this is a type rating course and stands for Airline Transport Pilot License.It is similar to CPL but has more features to learn.
ADVANTAGES of being a Commercial Pilot
Fly to foreign locations several times month
Live in 5 star hotels every time you land
Work only 20-22 days in a month and take the rest of the time off
High Salaries starting from 1 lac a month
Free Air travel for family
Opt for ground job anytime if not happy spending too much time in the air
Disadvantages of Being a Commercial Pilot
Long flight hours at a stretch with not enough rest
Continuous pressurized cabin environment will be bad for health after few years.
Continuous time zone changes totally spoils sleep patterns
Very stressful conditions when you are in charge of 300 lives in your hand
Lots of technical knowledge needed including ability to read charts,weather tables,understand geographical layouts
Good amount of Physics and Mathematical ability is needed for various calculations like fuel needed distances, velocity,readings,measurements
Too much of pressure differences can cause strain on health over a long period of time.
Odd work times – According to staff roster,duty times can be even in the middle of the night.
Constant relocation means many days without family
Take offs and landings and unforeseen events like bad weather,strong turbulence and constant vigilance for other aircraft can be highly stressful
How to become a pilot through Indian Air force
In order to become a pilot from a military academy you cannot do it directly after class 10.However you can join the NDA ( National Defense Academy) after you complete your class 12 in science stream.
The advantage of becoming a pilot from a military academy as compared to a civilian flight school is the cost factor.The cost of learning to be a pilot from a private school is atleast 25 lakhs,whereas if you get into NDA,you will be given a stipend and later after becoming an officer you will get an allowance/salary according to your rank.
How to join NDA and Flight training?
In order to get into the National Defense Academy,you need to give the bi annual exam conducted by UPSC.There are 360 seats that are filled up in these exams and 92 are for air force cadets.
In addition to clearing the written test you need to go through the SSB round.This includes some of the tests given below:
Intelligence Test
Picture perception test
Pilot Battery Test
Machine Test
Physical and mental fitness test
Psychological Test
If you clear all the above,then you will be placed on a merit list and finally 92 candidates will be selected to join as flight cadets.After enrolling for 3 years in the NDA,you will be placed for flight training in the Indian Air Force flight academy where you will learn to pilot an aircraft.
How can women become pilots?
Women can become commercial pilots just like men – by getting the CPL from a licensed flight school and enrolling 200 hours of flight time.This is extremely expensive as discussed before – more than 25 lakhs but-
There is also a second way – By joining the Indian Air Force.Yes you read that right.The IAF has just started commissioning women flight officers since the last 2 years for the following positions:
Flight officers – pilots
Aeronautical engineers
Air traffic controllers
Flight controllers