Artificer apprentice AA application indian navy recruitment
Artificer apprentice AA application indian navy recruitment – Indian Navy invites applications for Sailors as Artificer Apprentice
Selection is based no following criteria:
1.Should be born between 0-8-92 to 31-07-95
2.Merit based on physical test and written test-which is based on 10+2 syllabus.Candidate should have completed 10+2 with 55% marks atleast aggergate with maths/physics as a subject and atleast oneo f chemistry/biology/computer science.
3.Physical test includes 1.6 km run in 7 minutes,20 situps,10 pushups.
Artificer apprentice AA application indian navy recruitment APPLICATION
These important points should be read before filling up online form.
1.Before filling application,keep matriculation certificate and 10+2 marksheet ready for reference
2.Fill in all mandatory fields marked with * symbol including email address.
3.As shown in picture below click sailor entry to start process .
4.Fill form completely and click submit before checking all details.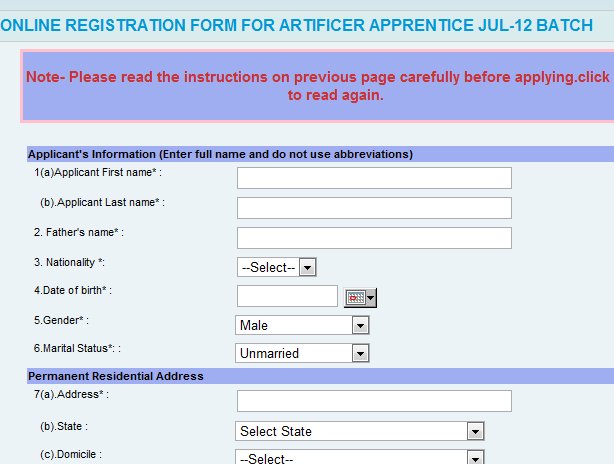 5.Now confirmation page will appear,afterwhich the application number will be generated which you note down for future use.This number will be also there on printed form next.

6.Next on print page,print 2 copies of onlin application form.One signed,along with attested copy of matriculation certificate,10+2 marksheet & domicile be forward at address below:
POST BOX NO.476,GOL DAK KHANA
GPO,NEW DELHI-110001
7.Write on envelope "online AA Aplication-132 batch & 10+2 percentage" written clearly on top.Envelope should be white in colour.
8.Documents mentioned in application form should be punched and tied to application form with thread.
9.Photograph should be clear and good quality with blue background.Wrong format of photo will be rejected.
NOTE:
1.Last date for online  is 30 december 2011
2.Physical receipt at this office before 8 jan 2012 will be the final confirmation receipt.
3.Online application will be furhter scrutanised for elibility and may be rejected if found not eleigible.
4.Candidates sending oth applications ie.online and manual will be disqualified.