NDA online application form procedure
NDA online application form procedure is a long process involving many steps.Please go through these steps one at a time before attempting to fill online form because errors cannot be changed and application may get rejected.
For NDA exam syllabus click here
READ these instructions before starting online form procedure;
NDA online application form procedure Things to remember
There will be negative marking for wrong answers
335 vacancies available-195 army,39 navy,66 airforce,35INA
Candidate should not be born before 2.1.94 and after1.7.96
Min Education should be pass 12th with maths,physics from government board/state board.Those giving 11th class right now are not eligible
Fee rs 50 paid by cash (SBI) ,Card or net banking
Selection is 2 phases based on psychological aptitude test and  intelligence test,if cleared can proceed to 2nd phase
Papers for exam are maths(2.5 hrs,300 marks) & general ability test (2.5 hrs 600 marks).Objective questions.For syllabus click here
 NDA online form Application detail page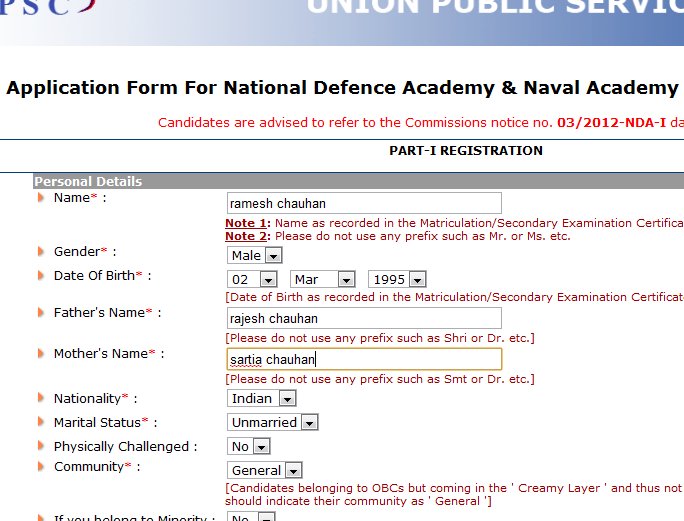 Enter Military school Details if any
 Verification Page
 Registration ID1 page
Note down this Registration ID1 for filling it in part 2 registration page.After this, print this registration ID! page for future reference,and also print application form 1 from this page.All links shown as in picture.After this proceed to Part 2 registration.
Part 2 Registration
Enter your registration ID1 from previous page.
Payment page
Choose appropriate payment method.Assuming you have already made the payment previously by any of the 3 methods mentioned here.
Transaction page
We have chosen cash method for this illustration.
Registration ID2 page
It is advisable to take a print of this registratio ID2 page also,just as you did for part 1 ID.Next proceed with photo and signature.
Photo Signature Page
According to instructions on page,please upload appropriate photo with dimension mentioned there.Also upload appropriate signature in correct fomat.
Confirmation page
If photo and signature are uploaded satisfactorily then confirm upload final stage.
CLICK HERE to go directly to website application page