The Leaning Tower of Pasta
The Leaning Tower of Pasta – Since Pisa and Pasta are both very Italian, lets see what we can do with both of them and create something delicious and fun. Using a few products lets see what we can come up with. We are creating a tower with a base of  spicy,tangy and sharp flavors  using  corn and spinach and then adding the top of the tower made of a pasta with subtle hints of fresh herbs. The extremely contrasting tastes of the base and the top will compliment each other.
Here is what we need:
Cajun spice/Chilli flakes/Chilli Powder (any 1)
White Wine 
Oregano
Del Monte Corn Boiled along with some boiled spinach
Del Monte Penne Pasta
Cheese (about200 gms)
Del Monte Pineapple Rings
Chopped Onions
Chopped Garlic
Parsely
Fresh Sweet Basil
Spinach and CornFirst In a large kadai/wok shallow fry the onions, garlic, corn & spinach. Add the spice/chilli and some finely chopped pineapple. and grate a little cheese. Season with salt/pepper and remove from heat.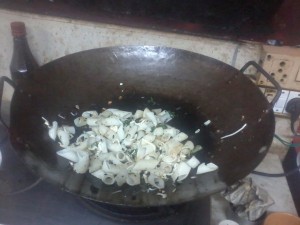 Next lets start the pasta. Lightly fry onions and garlic and then add the boiled penne pasta. Add some white wine,little oregano,chopped basil, grated cheese,salt and pepper.
Tossing the pasta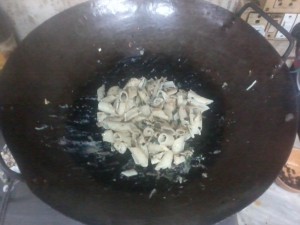 After the pasta is cooked let it cool a little before we can start the construction of the tower.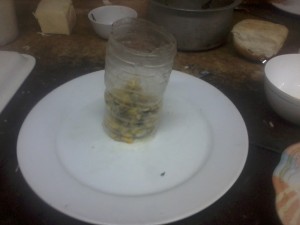 The "construction" of the tower base
Now we need a ring moulde if you have one, or simply cut both ends of a small bisleri bottle (500ml) like i did in the picture, and place it in the plate.
Put the corn spinach mix first that will serve as the base of the tower and give it support.
After that add the pasta on top of the corn spinach and lightly tap down. Try to make sure its packed well, at the same time try not to break the pasta
*tip* – lightly grease the insides of the bottle/mould to ensure it comes out easily without disturbing the tower.
Pull up the mould slowly in a circular motion, so that the tower does not topple over. If necessary use your fingers to dab the sides of the pasta to hold it in place.