Video Goggles review- ITV Goggles
Video Goggles review- ITV Goggles – one of the leading distributors of video goggles based in the U.S  has launched its range of portable movie theaters. The video goggles when worn,shows a virtual screen 7 feet away from your eyes.Like a personal portable movie theater,it has an inbuilt memory of 2GB and ports that can dock a micro SD card of upto 32GB and also usb ports.Also comes with earphones,but otherwise is lightweight,compact and absolutely wire free.
This product allows the user to view movies in upto almost 20 video formats,play games via PS3 or access media files from your Iphone,view Ebooks and Picture files. 
MODELS AVAILABLE
VIDIX
One of the best selling models on show,with upto 32GB micro sd support and wireless operation.
SCREEN-50″
PRICE-$280
 PCX 3D
Ideal for using as your computer monitor.Extremely high resolution video output of 1024*768.Comes with PSP input support,VGA input and 3D support.
SCREEN-80″
PRICE-$450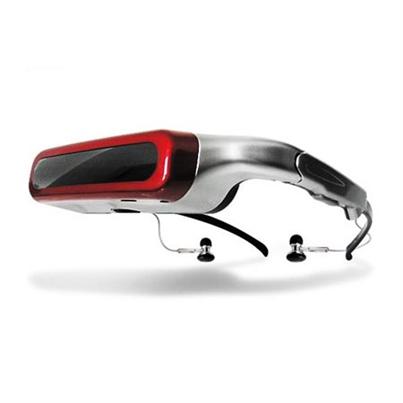 WIDEVIEW
High definition screen video playback with inbuilt media player and wireless operation.
SCREEN:62″
PRICE-$300
 WIDEVIEW XL
Best for ultra high vision and quality.Its got the largest widescreen view in 16:9 aspect ratio.
SCREEN-72″
PRICE-$380
ITG 230
The most reasonable out of all the video goggles,with slighly lesser video resolution of 320*240.
SCREEN: 50″
PRICE-$180
SPYCAM GLASSES
Armed with high quality polaroid lens and 2 GB inbuilt memory that can record upto 5 hours of video in 1.3 MP quality.