How to become a chef  – A career as a chef after class 10 or 12th can be taken up even if you have not done graduation.
Even if you have done engineering or any other professional course and wish to change your career to that of a chef it is possible.Here we will see the three options to become a chef:
how to become a chef after engineering

how to become a chef in india after 10th

how to become a chef after 12th
Before you decide on becoming a chef
Before you take the decision to become a chef and join a course,you need to remember a few things:
The kitchen job is physically demanding.Its hot,smoky and uncomfortable
The starting payscale is not high.Only in a 5 star will you get a decent salary,that too after few years.As a trainee it will be just minimum wages.
If you do not love food,don't go for it
How to become a chef after engineering
If you finished your B.E or B.Tech and want to become a chef after this, it is never too late.Whether you want to do it with a degree,diploma or certificate course, or if you want to do it without a degree,there are always ways.I myself have completed B.E in Electrical engineering from Mumbai university but never worked as an engineer.
Whether you want to start a restaurant or work in a restaurant,the choices are open.Famous Mumbai based Restaurateur A.D Singh also did Engineering but now runs many successful eateries.
I know some students who hated engineering because of the number of ATKTs they collected. One good friend also dropped out of engineering and became music teacher in a music school.The point is for whatever reason you wont want to pursue a career in Engineering or Technology, you have to do what you love. Sometimes parents push kids into engineering and medicine even when  the student has no aptitude for it.
Why i have become a chef after engineering
Let me start by saying a have an unfair advantage in this respect.The past three generations in my family as well as my uncles family have been in the hotel industry.So why did i take up engineering you may ask?
I gave the NCHMCT , which is the common entrance test for hotel management colleges after 12th standard.I cleared it easily as it is not a very hard exam to crack.It required  basic 12th standard science, English and general knowledge.I even passed through the interview, but then discussed with my father –  and decided i wanted something more of a challenge. (the most idiotic decision of my life)
So i went for engineering and suffered with ATKTs through all the years, but i do not regret it ironically.Engineering taught me the meaning of hard work and dedication.Never in my life have a studied so much and felt so accomplished when i cleared a paper.
When i had a drop,me and few friends went to a call centre to work for months and it was such a bad experience that i decided that never in life again i would work.Trust me,doing a night shift call centre is like hell,i cant imagine people doing it.
I decided i would even sell vada pao on the road than do some crappy job ever again.
Ways to become a chef after engineering:
After engineering ,there are few ways to get directly into the industry.You have to learn some cooking skills first.
Either take a short term course of minimum 3-6 months or a daily course or join an institute for a 1.5  year diploma if you want a formal education.
After engineering this will become too long so i suggest a combination of a short 6 months certification course plus a daily course from a private tutor.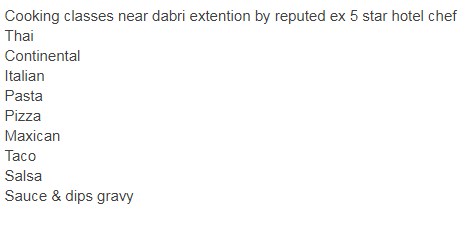 Certification crash course – These courses are available at all polytechnics in any city and usually last from 12 weeks to 6 months.
You get to learn alot of practical knowledge FAST,you have to make all the dishes from scratch and you can chose a specialty crash course,for example baking,pastry making,indian cooking,cake frosting.
Cost is approximately Rs.65,000 – Rs.85,000 depending on the institute
Home based private home cooking classes– Approximately Rs.1000-Rs.3000 per class/per day.These are EXCELLENT if you want to learn a range of dishes fast,easily with on hand experience.
The advantage is that you learn 4-5 dishes and variations per day.These ads can be found on OLX/Quikr and a new site called superprof.
These types of ads teach you a variety of cuisines in 1 day flat- for each type of cuisine.They give good secrets and tips to make the food taste like restaurant quality.
I suggest you go to an elderly person to learn as they have lots of experience in teaching these things,whereas the newbie younger people are themselves just learnt these dishes and are trying to re teach to others.
Thing to remember for Home Cooking Classes : – Most of these are run by ladies and they DO NOT TEACH GUYS , make sure to ask this before booking a slot.
After you cook your dish,you are allowed to take it home. Remember to practice it many times at your home in order to get it perfect and to not forget the recipe.
How to become a chef in India after 10th
If you have just passed your class 10 boards and want to directly opt for a career as a chef there are 2 ways to do it:
Diploma – Some institutes offer a short term diploma that lasts for around 18 months.these courses are full time and will learn all the basics  of the trade involving food preparation and kitchen basics.
At the end of this course you can either opt for a 3 or 4 years diploma which is equivalent to a graduation degree,or else directly apply for a job and learn with experience.
Certificate course – these are very short term duration but the advantage of these courses that last for few weeks is that you can directly choose a speciality like dessert making,cake making, tandoori cuisine etc.Problem is that most of these courses are offered at small colleges,just 1 or 2 big hotel management colleges offer them.
These are treated as more of  a hobby course rather than a career course,but is very useful if you just want to test the career out and see if you have any aptitude for it.
Advantages of becoming a chef after 10th
If you start your chefs course directly after 10th,you will be trained sooner.This means you can learn more skills before you are 18 years of age and can start earning also earlier.
Starting earlier means learning a specialised skill like baking,confectionery,continental cooking etc.Its better to be specialised rather than be a master of all skills in the kitchen.
Starting early also means,if you do not like the food industry,you can easily switch since you are young and have time to try other things.
How to become a chef after 12th
Bachelors – There are many 3-4 years bachelors degrees available in leading colleges as well as hotel management institutes all over the country.The best part of these degrees is that it is fully recognised anywhere in the country and carries lots of weightage especially for front end jobs at 5 star hotel and managerial positions in hotels.
Diploma – Similar to bachelors,even diplomas can last for 3 to 4 years and are very theoretical based.The best hotel management institutes in the country offer only diplomas and have great value in the industry.Again unlike a bachelor's degree,the diploma is more course specific and you can choose either a diploma for managerial front desk course or a diploma that focuses on the kitchen.
Advantages of becoming a chef after 12th
The biggest advantage of doing a hotel management or chef course after class 12 is that both the degree or diploma that you do will be considered as a graduation degree.This is only if you do the 3 or 4 year course and not the 1.5 years course.
Having a class 12 board certification is much more valuable than just a 10th pass.you can get other jobs in various fields with a 12th pass if you choose not to work as a chef.
How much can you earn as a chef ?
You will earn the same /or more as you would if you had worked as an engineer.The starting salary is:
1.At a standalone restaurant in a big city – Approx Rs.20,000 -Rs.25,000 per month.Permanent job – all year around
2.At a beach shack in Goa – 6 months employment – Approx Rs. Rs.15,000 – 30,000 per month.
3.At a 5 star Hotel Restaurant – these are harder jobs to get UNLESS you do your short term course from a 5 star hotel management school itself.In this way you get placed in the same hotel kitchen. – Rs.20,000-Rs.30,000 + Tips+ Awesome 5 star meals for free
4.At a cruise liner – You get paid a good salary in dollars approximately of $USD 500.You will assist the main cooks in the Galley/Kitchen and do all sorts of small jobs like kitchen inventory/stocking/freezer handling/Food sourcing from ports.Besides the great salary the other perks are:
-Travelling the world for free
-Eating amazing food and meeting girls/guys from Russia etc.All staff on foreign cruise liners have international staff also.Its a great experience.
-Tips are also in USD and you will get a share of these too adding to an already high income.
5.In Gulf countries– There are hundreds of new % star hotels in Dubai and other Gulf countries that exclusively hire Indian to work in the restaurant Kitchen .These places pay in Dirhams/Dinars etc and you can expect atleast Rs. 35,000 – Rs.45,000 salary here.
6.Start a small take away/startup/restaurant – This requires a significant funding but they outcome is great.Remember that as an engineer there is limited scope to start a business related to engineering, however as a chef entrepreneur, you can easily open a small take away or fast food shop in a budget of Rs.50,000 per month.You can start earning anywhere from Rs.65,000- Rs.1,25,000 a month depending on your niche/area/competition etc.
How to become a chef in Mumbai
Mumbai is my city and also the financial capital of our country.It is home to the best hotel management and catering institute of India – the Dadar Catering college.(now called as IHM)
If you live in Mumbai or want to pursue a chefs course in Mumbai – then you have to get enrolled here.For a full time diploma course,you need to pass a written test and interview – both of which are not so hard.There are few science questions also in the theory paper.Even if you omit those,you can still clear it.
The various courses they offer are here
Who choose Mumbai for a catering course ?
RichesT cosmopolitan city in the country
Best salaries
Best exposure to westernized cultures and foods
Best placements
If you want to get a job in a 5 star then you have to do the 3 years Bs.C course.Even though the 1.5 year diploma is good,it is still not considered a graduation and the B.Sc has more value especially for a front desk/management job.
How to become a chef in Canada or UK
Becoming a chef in a foreign country is a simple straightforward plan.Firstly you need to understand that your indian degree or diploma is not valid there and you need to enroll in a culinary school on foreign soil.
There are diploma courses that run for one and half  years.I suggest you go for those as you can complete them easily and you also get a work visa for the same duration of your course.This means – you get a 1.5 years work visa also.
During the work visa time you will work in a restaurant or fast food joint and also prepare your documentation for your permanent residency (PR).
After 3 years as a permanent resident you can apply for citizenship.
The amount you earn in Canada is approximately 6 times that of india and also the quality of life in general is better.
CONCLUSION
Bottom line is – working in the hotel and restaurant industry is TOO MUCH FUN. You will never get bored or tired of your job.It is a fast paced life and has great career potential.
As an engineer in India –  it is more respected by the older generation, but is too stagnant and dull.You will not enjoy it one bit.This is the reason many engineers need to supplement their B.E degrees with management degrees to get  a good income.
Last thing is- you can always work in the hotel and restaurant line for a few years and come back to engineering- if you dont enjoy it.There is no harm in trying it- im sure you will love it.