Medical Laboratory Technology Courses – MLT
Medical Laboratory Technology Courses MLT – Short for is MLT and is a course that is similar to B.Sc Biotechnology and also forms part of the Paramedical branch of courses that are medical and pharma based.In India and other developing worlds,the job and career scope is HUGE.In America it is even more and you can earn big bucks if you do a course here and move to a western country.
The main job of an MLT is diagnosing and analysis of samples of bodily fluids like blood and urine.These are tested for various pathogens and diseases by a medical lab technician.
Other important work of an MLT is the proper usage,handling and functioning of the various laboratory equipment like MRI scanner,ECG equipment etc.Only a licensed MLT operator can be trusted to handle this expensive medical equipment else reading will go wrong and a faulty diagnosis will be given to a patient.
In USA,MLT are part of the Allied Healthcare Workforce,similar to paramedics and have a huge role to play behind the scenes in any hospital and diagnostic centre.
MLT ELIGIBILITY
Since it is science based course,you will need Physics,Chemistry and Biology taken at the class 12 board exam level.Most colleges and universities ask for minimum of 55% – 60% in PCB subjects and some even consider the overall 12th exam percentage.To be on the safer side
About the MLT course
As a medical lab technician you will be working along side with the physician/doctor and other medical technicians to determine test results from samples that have been sent for analysis
Subjects and syllabus for MLT course
Some of the subjects that you will study are:
Microbiology
Hematology
Blood banking
Immunology
Clinical chemistry
Molecular biology
Cytotechnology
Histotechnology
Medical Laboratory Technology Courses – MLT
1.Short term Course :
This type of MLT course runs typically for 1.5 years or 18 months.The minimum eligibility is 12th pass with 50% marks in board exams.
2.Diploma in MLT (DMLT)
This diploma course can be taken up directly after class 10 boards or after 12th standard.There is no mandatory rule that you have to have studied science previously.It is long course of 2 years and you learn the basics.This is good if you want a detailed education in MLT.After doing this Diploma in MLT,you can directly apply for a job.
3.Certificate in MLT (CMLT)
This is a 1 year duration course and can be applied for after 10th or 12th.You will learn the basics of MLT and get familiarized with all the lab equipment.It is advised to do another more in depth course in MLT later on to help you get a better job in the healthcare sector.You will learn all the theoretical and practical applications of MLT in this course and is suitable for students who want to pursue this career directly after school.
4.B.Sc in MLT
This B.Sc in MLT is also known as Clinical Laboratory Science in some colleges and is a three year course after doing class 12 boards exams in science stream.In this course that runs for 6 semesters,some have an extra semester as internship.
You will learn all aspects in detail of becoming a Medical Laboratory Technician including diagnosis,treatment and prevention of diseases.
One of the main reasons for doing a B.Sc in MLT compared to a certificate or Diploma course is that at the end of the degree you are a graduate.This graduation you do not get from other short term courses.Due to this you will be paid more also and rise up the career hierarchy faster.
Subjects and syllabus for B.Sc MLT
Semester 1
• Human Anatomy I
• Human Physiology I
• Fundamentals of MLT
• Lab Management Skills
Semester 2
• Human Anatomy II
• Human Physiology II
• General Biochemistry
• Clinical Hematology
Semester 3
• Clinical Biochemistry
• Microbiology I
• Serology
• Blood Banking
Semester 4
• General Pathology & Clinical pathology
• Cytopathology & Histopathology
• Microbiology II
• Biostatistics & Research Methodology
• Semester 5 & Semester 6
• Compulsory rotatory clinical Internship
Future Job and Career Scope
Some of your job duties will be to:
Analyse two separate blood samples for comparison and check if they are a good match during transfusion.
Prepare the lab before each work day and clean all the equipment and slides.
Handling of all important equipment, machinery, scanners,microscopes and imaging monitors.
You can expect to be placed directly after finishing the course in the following places:
Private / Government Hospitals
Diagnostic Centres
R & D in private pharma companies
Clinics and Laboratories
Career and courses after doing MLT
You can do other paramedical courses and specialize in another area of healthcare sector to increase your chances of going up the career ladder.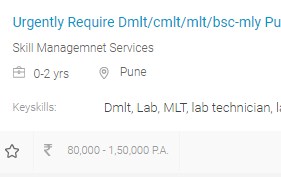 After doing a short certificate course in MLT,you can expect a salary of anywhere between Rs.12,000 to Rs.15,000 per month as a fresher candidate.This may seem less,but as you increase you experience,your salary goes up accordingly.
After gaining more experience in this field you can slowly move onto higher posts like:
Laboratory in charge
Phlebotomist
Technical in charge
Operation in charge
Laboratory Supervisor
Quality Control Supervisor
Some of the companies that will hire you are:
Dr.Lals Diagnostic Centre
SRL Limited
Microgene
Episource
Sapphire Hospital
===