Offer Letter Format for BPO job – Appointment | Joining
Offer Letter Format for BPO job – Appointment | Joining – Below is sample offer letter format for BPO job  that is being used in all major BPOs or call center. This is for an employee and also shows the salary breakup including bonus, incentives, appraisal. Compensation and deduction from salary is shown in pictures. For the format of a Recommendation letter for employee  or Job reference letter.
Offer Letter Format for BPO job – Appointment | Joining
Mr/Ms___________
Dear_____________
OFFER  LETTER 
With reference to your application, we  are pleased to
inform you tht you have been short listed for the post of support
professional-voice services. The key terms and conditions of this offer are outlined below:
a)You are expected to join on __________
b)Your compensation is Rs______________ per annum on the basis of the declaration made in your resume and disclosure made at the time of interview.
c)Your performance as well as your compensation will be reviewed on a half yearly basis.
d)this offer letter is valid subject to completion of your reference check and submission of your salary documents.
f)An appointment letter will be offered to you a the time of joining.
g)This offer letter stands valid to you subject you submit the following documents at the time of joining.
a.Service certificate and relieving letter from your previous employer
b.Salary certificate/latest pay slip from your previous employer.
c.Income Tax certificate from your previous employer
d.Proof of date of birth and proof of residence.
e.All relevant educational qualification certificates.
f.Blood group information.
g.Four passport size photographs
h)I have clearly understood each and every detail and have accepted the same with total clarity,I have no further doubts whatsoever
yours sincerely,
xxxx
International services xxx
Authorized Signatory
From the date of joining:
You will be covered by an accidental policy :Rs xxxx
After confirmation i.e 6 months after  joining you will be covered by mediclaim policy: Rs.xxxx (Employee can cover either spouse + upto 2 children or parents under the policy.
Canteen facility(optional)
Cost of canteen Rs.xx per day
Companies contribution Rs.yy per day
Your contribution Rs.zz per day(yy +zz=xx)
Pick up and drop
Home pick up 11.30 p.m. to 5.30 a.m., home drop 11 pm to 1pm
Before 11.30 am centralized pick up from dadar.
If your process is at andheri there will be no centralized pick and drop from the station during the day.
Area Limits:
Thane
Chembur
Vashi
CBD Belapur
Colaba
Bhayender
Salary Date:
Salary will be paid on 7th of every month
Appraisal Cycle:
6 month appraisal cycle i.e. 2 appraisals per year
Training:
Within the first three months of joining the organization no leaves can be availed excepting you're scheduled offs during training it would be a  6 day week
Attendance incentives:
Would range from 0 to 24,000 pa. On a monthly basis 100% payout (rs.2000) if no LWP is availed,50% payout if 1 LWP is availed, no payout more than 1 LWP availed
Performance incentives
Would range from 0 to 48,000 pa subject to achievement of performance defined 50% in time, confirmed bonus payable after completion of 5 months, 6th month onward, entitled to earn a maximum of 4000 per month subject to achievement as defined
ANNUAL COMPENSATION PACKAGE:
Cost to Company:
Basic
HRA
Medical Allowance
Transport Allowance
Night shift Allowance
ContributionPF**
Total Fixed pay (A)
Deduction
Employees PF Contn**
Professional Tax
ESIC
Net Salary (B)
Benefits
Cost of subsidized Meal @ Rs.** per day
Mediclaim
Personal Accident
Gratuity(4.8%of basic)**
Total benefits(C)
Incentives:
Performance Incentive upto:
Attendance incentives upto:
Total  incentives (D)
Total Cost to company (A+C+D)
Note: All tax liability to be borne by the individual
2.All the above compensation details subject to rules ** as per act
For xxx
International services
Authorized Signatory
ACTUAL PICTURES OF offer letter format for BPO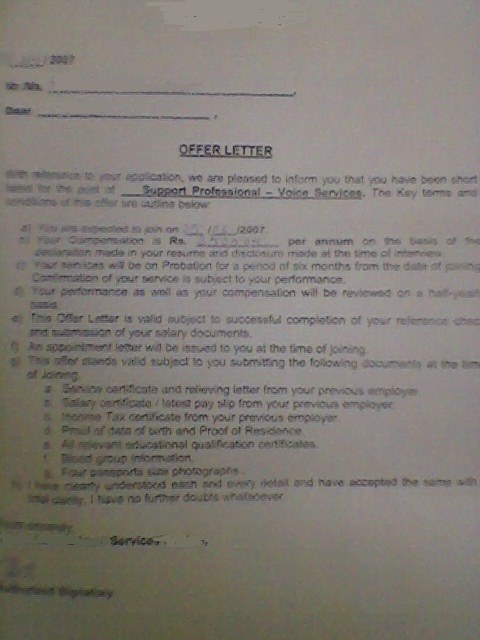 RELATED POSTS: