Agricultural Engineering course, scope, career and salary – Agricultural engineering courses are available in B.E or B.tech degrees.It is one of the newest branches of engineering unlike older Civil engineering or Computer Engineering.Students still do not have confidence in this branch as they do not know of the salary scope and job availability.
Future prospects of this new engineering branch are bright and more students should join these courses now itself because these engineering exams are easier to clear and there is lesser chances of getting failed in those technical subjects.As the branch becomes older the course becomes harder and papers become more competitive.
If you are new to B.E or B.Tech and are trying to take admission then remember that the biggest industry in India is agriculture.In the past there was no formal degree courses of engineering,but since the past few years it is slowly coming into demand.
Subjects and Departments of Agricultural Engineering course
All B.E and B.Tech Agricultural Engineering courses consist of 8 semesters in total.The first year is common for all branches of Engineering in India.The final year consists of Projects,Industrial visits and Tours and In plant Training.Below is a detailed semester wise subject list.It may differ slightly for each State,but it is almost 90% same for all colleges in the country.
Semester 1
Engineering Mathematics-
Engineering Physics
Engineering Chemistry
Workshop Practice
Applied Electronics and
Instrumentation
Engineering Drawing
Environmental Science
Computers Programming and Data
Structures
English
Semester 2
Engineering Mathematics-II
Computers Programming and Data
Structures
Surveying and Leveling
Agriculture for Engineers
Workshop Technology
Engineering Mechanics
Thermodynamics and Heat
Engines
Semsester 3
Engineering Properties of Biological
Materials and Food Quality
Soil Mechanics
Fluid Mechanics
Farm Machinery and Equipment – I
Farm Power
Watershed Hydrology
Engineering Mathematics-III
Agribusiness Management and
Trade
Semester 4
Farm Machinery and
Equipment – II
Renewable Energy Sources
Soil and Water Conservation
Engineering
Irrigation Engineering
Crop Process Engineering
Theory of Machines
Heat and Mass Transfer
Database Management and Internet
Field Operation and Maintenance
of Tractors and Farm Machinery – I
Semester 5
Machine Drawing and CAD/CAM
Commuter Graphics
Machine Design
Dairy and Food Engineering
Tractor Systems and Controls
Electrical Machines and
Power Utilization
Field Operation and Maintenance of
Tractors and Farm Machinery – II
Strength of Material
Ground Water, Wells and Pumps
Semester 6
Agricultural Structures and
Environment Control
Drying and Storage
Engineering
Design of Structures
Drainage Engineering
Soil and Water Conservation
Structures
Refrigeration and Air Conditioning
Entrepreneurship Development
and Communication Skills
Semester 7 & 8
Projects & Seminars,Inplant training and educational tours
Renewable Energy Technology
Food Packaging Technology
Design and Maintenance of Greenhouse
Waste and Byproduct Utilization
Development of Processed
Products and Equipment
Food Processing Plant
Design and Layout
Micro Irrigation System Design
Watershed Planning and Management
Minor Irrigation and Command
area Development
Gully and Ravine Control
Structures
Remote Sensing & GIS Applications
System Engineering
Reservoir and Farm Pond Design
Tractor Design and Testing
Hydraulic Drive & Controls
Farm Power and Machinery Mgmt
Human Engineering and Safety
Production Tech for Agril. Mach.
Mechanics of Tillage and Traction
Environmental Engineering
Biomass Management for
Fodder and Energy
Faculty and Departments of Agricultural Engineering
These are some of the major departments in an engineering Agricultural college.
Soil and Water conservation Engineering
Farm Machinery and Power Engineering
Processing and Food Engineering
Renewable Energy Engineering
Basic engineering Applied Sciences
Irrigation and Drainage Engineering
Fees of Agricultural Engineering course
Since the entire course of 4 years has 8 semesters.Some colleges need you to pay fees as per semester wise.It is approximately Rs.15000 – Rs.20000 per semester or about Rs.40,000 per year.this varies as some states offer lesser fees to female students and Sc/St candidates, or some are made less on basis of merit.
Scope,Career and Salary after doing the Agricultural Engineering course:
Once you complete your B.E or B.Tech degree in Agriculture Engineering you have a good chance of getting job vacancies from State Government Agencies as well as private companies that are engaged in Fertilizers,Crop Management, Irrigation,Geology,Soil, Food production sectors, Food Processing,Nature Agro Industries and Machines,Tractors,Turbines all technical machinery that the agriculture industry relies on.Gone are the days when animals were used to til the land.for huge commercial plots of land only machines are used.
Remember that since Agricultural engineering is a new and upcoming branch,there are more and more colleges have started added it to their faculty.As a result there is more demand for teachers,assistant professor and lecturers in this branch.
Below are two advertisements for Agricultural Engineers.Depending on experience,the starting salary is from Rs.20000 onwards for freshers.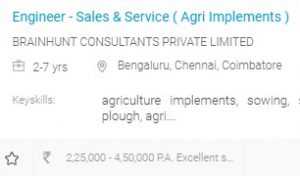 Eligibility and Admission into Agriculture Engineering
Both B.E and B.Tech Degrees require 10+2 completion and a minimum marks of at least 50% in PCM – Physics, Chemistry, Mathematics.Some Colleges in a state will take PCB Biology marks also into account.
For admission process there is the CAP rounds in some states while other colleges will conduct their own entrance exam to give admission into the program.
Campus Placements 
These are some of the companies that come for Campus Placements:
1.Tractor and Farm Equipment (TAFE)
2.Vistaar Financial Services
3.Mahindra & Mahindra
4.Jain Irrigation Systems
5.Finolex Industries