CBSE Private Candidate Admission|Practicals|Admit Card|Result
CBSE Private Candidate Admission|Practical exam|Admit Card|Result – For all female students  hoping to appear as a CBSE Private Candidate here are some VERY IMPORTANT and useful tips that you need to go through. Note, this post is written by a CBSE Private Candidate herself, so you wont find this information anywhere else on the web.
CBSE Private Candidate 10th class
1) 9th as well as 8th std passed are eligible through CBSE Patrachar School/Regular Public or government School as Private candidate.prac
2) Through CBSE Patrachar School, not only a Females but also Male students can apply .
3) Female Delhi bonifica Resi.(those staying in Delhi/ NCr) can apply as a CBSE Private candidate without joining Patrachar school
4) Private candidates cannot change subjects or choose subjects other then their old school was teaching .Eg. Maths , Science, Social Science, English communicative /Literature , Hindi /Sanskrit.
5) You are not allowed more then 5 subjects. Also practical exam/ examination not allowed to be chosen either.
CBSE PRIVATE CANDIDATE ADMIT CARD
6) W/o Practical exam subjects like Science aren't of 100 marks Theory, But 80 Marks. You must score 25 marks, minimum for your 80 marks subjects, and for the rest of the subjects, minimum score should be 33 .
7) Private women candidates need not join any regular school nor Patrachar Schooling. She can study at home.
8) No need to fill form through any institute, personal tutors, coaching center etc. As you going to end up paying higher fees then CBSE PRIVATE FEES. Total Fees is below RS. 1000 max .
9) Be sure form submission is on time to avoid late fees. Be sure the form is filled fully with all documents required
10) Private and Improvement Examination Forms are available at selected SYNDICATE BANKS as well as for Submission of Forms.( Patrachar students can follow patrachar guidelines for cbse form)
11) With form You need to summit Your Transfer Certificate, Last clearing class marks sheet xerox copy, and an AFFIDAVIT attested by First Class Magistrate/Notary (Details of affidavit are given on your forms ).
12) Only Candidate below 18 yrs are required to submit Affidavit, Older than 18 yrs old need to submit any affidavit. ( only those women National territory of Delhi appearing as fresh candidate ,without having read in any recognized school.
AFFIDAVIT FOR CBSE PRIVATE CANDIDATE
13) Form should be only filled with Blue/Black Ink. Do not fill with Glitter(sparkle ) Pen. There shouldn't be any cutting or fluid used on your forms . Fill with concentration and slowly need to not show any hurry and Spoil your form.
14) After submitting your Form do not forget to receive your form receipt from bank. Receipt can be use if case of not receiving your admit card letter.
15) Do not come under any scams running by Private Institutes/Coaching Center claiming 100% clearances in 2 months,3 months or less.
16) Must sign your full name in signature column do not sign differently in your examination hall. Required 1 passport size recent photograph for submitting with form.
17) Roll no. and admit card info with your examination center name/no. will be provided in month of February. All students must visit there given Center and receive their Admit card .
(With only CBSE letter OR without Admit card students wont be allowed to attend examination).
18) Finally forms must be signed and stamped by School Principal or recognized Delhi school .
Below is a snapshot of a final marksheet as it appears for a CBSE Private Candidate
CBSE PRIVATE CANDIDATE RESULT SHEET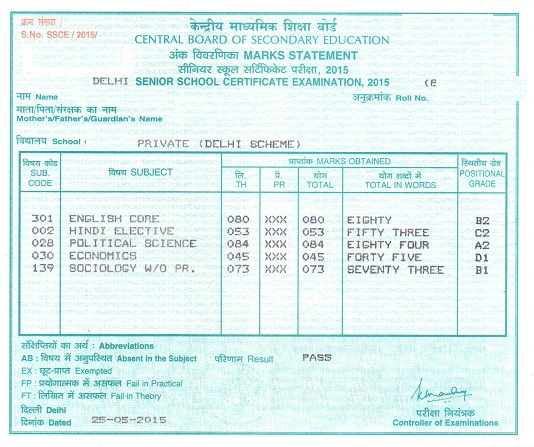 CBSE Private Candidate 12th class
1) Student must have one year gab between 10 th standard passing year to applying for 12th standard Examination.
Eg. If Student has passed there 10th Std in 2014 can apply for 2016 12th Examination but not for 2015 Examination.
2) Fees For CBSE 10th will not be more then RS. 1000 (with late fees )
3) Required to submit class 10 passing marksheet ( not allowed if candidate not Qualified 10 th standard).
4) Only National Territory Of Delhi's residing Female candidate can apply for private examination.Male candidate has to apply through CBSE Patrachar School as this is the only way a male private candidate can apply.
5) Male candidate can join NIOS also.
6) Candidate will be examined only in the syllabus as prescribed for the year of Examination.
7) Don't apply for any stream you are not confident of passing just because it is suggested by your relatives, Parents, Tutors etc. Apply for only those you are confident with it.
8) Examination MAIN held in month of march only in case you had taken 6 subjects and passed in 5 out of 6 you will be declared Passed.
9) Compartment candidate has the option to retain there previous practical exam marks of the first year Examination.
10) CBSE forms cannot be applied or downloaded online . Can only be collected at selected Syndicate Banks.
11) CBSE regional office does not supply examination forms . Can only be collected and submit at SYNDICATE BANK only.
12) If you are worried about spoiling your year then No need to wait an entire year gap for 12th standard students can join an institute or some colleges where eligibility is 10th std also for professional Courses. ( Like Fashion Design, Textile Design etc)