11 Best Aviation courses after 12th in India: Jobs, salary and scope
11 Best Aviation courses after 12th in India: Jobs, salary and scope – When you think of aviation courses,most people think of only air hostess or pilot.But there is much more than that.I have listed 11 such exciting careers for all you guys and girls to choose from.Whether you are a graduate,undergraduate or just 12th pass – there is an airline job for all of you.
All these job positions listed below have links to the course page also.So you can directly check what the course is all about,the duration,difficulty rating,syllabus,subjects taught and most importantly – How to much money can you earn with it ! Because ultimately everything boils down to the salary.
Aviation courses after 12th in India
1.Cabin Crew
Cabin crew consists of air hostess and purser and any other personnel that assists passengers inside the cabin space of the aircraft.It is one of the oldest professions ever since commercial flight started.
It is one of the most exciting careers and you can visit foreign countries and live in 5 star hotels for free plus you will be paid close to a lac of rupees a month for your paid vacation! Sounds good doesn't it?
About the course – there are many cabin crew training institutes all over the country and big names like Frankfinn are the best to go ot . Why? because many of the big institutes have a setting done with contacts in the selection panel of major airlines.Your chances of getting a job are much higher when you come recommended from a big institute.
However even if you do not join up,and are reasonably good looking,the airline will provide training to you after signing up for the course you will be charged from your salary for this, and some airlines take  bond money in lieu of this training.
About the course – Most of the these cabin crew training courses cost anywhere from 45,000 to 85,000 for the entire duration that can run for approximately six month to 9 months.You will learn all aspects of the job starting from personal grooming to passenger interaction and more.
Scope – You can be hired by all carriers,starting with domestic airlines that will pay you atleast Rs.28,000 a month and International will start off at about Rs.40,000 monthly.
+ Read the full article on how to become an air hostess / pursor / cabin crew
2.Ground staff
For those unlucky few who attended cabin crew courses and did not get selected for a flying job,fear not – there is hope for a ground job.With equal perks as your air counterparts,ground job is less stressful and more rewarding in many ways.
Even if you did not attend any course,ground jobs at airports are easily available for walk in candidates by many airlines.In fact there is more demand for ground staff than flying staff because there are more formalities before you take your flight than while you are on it.
Scope – You will be trained in the procedures that include mainly ticketing,issuing of boarding passes,customer service,checking passenger lists and check in of passengers.
The conditions of selection also are not rigid compared to cabin crew.Only a pleasing personality and moderate looks is required,whereas in cabin crew they check your height,arm reach,complexion,face,eyesight etc.
Salary – You will start off with a base salary of atleast Rs.25,000  and this will increase with experience.Foreign airlines will pay you in dollars and you will receive the same perks as those of your flying counterparts such as free annual tickets for yourself and family.
I know few cabin crew that after flying for few years,they got so fed up that they opted for ground jobs after that,which is a more cushy and easy job.
3.AME
Being an Aircraft Maintenance Engineer is a technical and fun job if you love planes.You work will be to check the planes before it takes off for mechanical and avionic wear and tear,as well as instrument malfunction and errors.After you and your team give it a clean bill of health,only then it can be cleared for take off once again.
About the course – It is a 3 or 4 year course where the first two years is taught the basic theory and the next 1.5- 2 years will be on the job training on live aircraft.You will get your basic license called BAMEC whilst in college itself and in order to get the AME you need to work for 4 years as well as pass a series of tests regulated by the DGCA in order to finally get your AME license.
Fees – This two year course at the training academy will cost you approximately five and half lacs all inclusive.
Scope – While working as a regular engineer for 4 years before getting the AME,your salary will be in the range of Rs.22-25,000 , but after passing the exams and getting the AME it shoots upto near a lac and beyond,there is no limit depending on experience and employer.
+ Read the full article on How to become an AME
4.CPL – Commercial Pilots License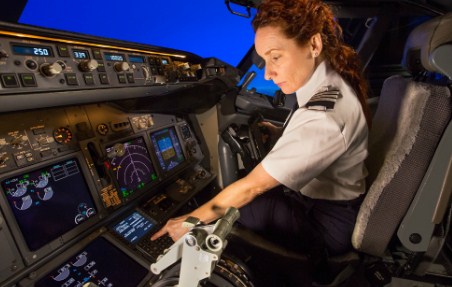 After doing our class 12 in science,you can directly apply to a flying school that is regulated by DGCA.If you have taken maths and physics at your 12th boards,you can easily get admission,but if you have not taken science then you can apply to NIOS and then apply to the flight school.
About the course – It is a one and half year course,in which you will learn firstly all the ground theory about the cockpit and regulations etc.After that you will be put through flight simulations and finally be given actual flight experience.It will take 200 flying hours minimum for you to be eligible to sit for the DGCA written examinations in order to get your CPL.
Fees – Unfortunately this is one of the drawbacks of the course.It is super expensive.You need to spend close to 45 lacs in order to be a certified pilot of a large aircraft.Your training at the flying institute will cost about 20 lacs and you will need to spend anther 20 lacs to train on the job in a commercial carrier.
Scope – You can get a starting salary of Rs.70,000-90,000 per month in your first year.Second year onward this will double and increase even more after that.It is a very lucrative job,which is highly specialized.
+ Read the full article on How to become a Commercial Pilot 
5.IATA
Doing an IATA course is an internationally recognized degree and is the queen of all travel and tourism courses.It stands for International Air Transport Association and this course covers all important topics related to the airline and tourism industry.It concentrates more on the Aviation sector and teaches you may things like ticketing,airport codes,ground job duties,ram duties,air cargo etc.It will help you greatly if you want your aviation or travel career to go on the right path.
About the course – This course is conducted all over India and is mostly a Diploma course that runs for four to six months.
Fees – You expect to pay anywhere from Rs 35,000 – Rs,75,000 for the course depending on the institute you are doing it from and the state you are in.
Scope – You can expect to get a job in ground staff for all major airlines in the country and help with check in formalities as well as air ticketing at the ground counters.All other travel ad tourism companies as well as cruise ship offices will hire you.There is lots of potential in getting a job and you can choose from a wide choice.
+ READ the full details about the IATA course here
6.Aviation Grooming Trainer
Many people do not know much about this profession,but ill tell all about it.When candidates are selected to be cabin crew either directly by the airline or selected for a cabin crew training course by an institute like Frankfinn etc. The first most important thing that is taught to you is how to dress well and how to talk.
Grooming trainers teach you how to make the correct and accepted hair styles and how to apply the right make up.There are lot of regulations regarding appearance and after correct grooming classes you will look atleast 25% better.
Not only teaching you appearance,many grooming instructors also teach you how to interact and communicate with passengers and customers.This help your speech and diction,and overall gives you a better personality
Scope – Many leading Aviation training institutes like Amigo,Jetking,Frankfinn are always looking out for grooming trainers to teach in their academies.Other than this,all big airlines also give training to all fresher candidates and therefore also will hire you.
I was spoke to a grooming cum voice trainer and she was being paid rs.1200 per training day.She was probably not on  a monthly salary ad was paid only for the days she conducted the classes.However if you are in a regular employed job,you c expect a monthly salary of Rs.25000 a month to start with.
7.Airline travel consultant – Travel & Tourism
This is  wide opportunity and encompasses many branches f travel and tourism.You can either work in a travel and tourism office or start your own business after getting 1-2 years in the industry after working.Your job here will be of an all rounder- Starting from offering various holiday travel packages,air ticketing to organizing the final tour.
What course can you do ? – I suggest doing 2-3 small courses from the full list i have mentioned here. There are all short term courses like :
Certificate course in World/ Domestic Tour Management
Diploma in Travel Service Management
Certificate in Fundamental of Travel and Tourism
By doing these short courses,not only will you learn everything there is to get a good job,but it will also help you plan your own travel consultancy.
Scope – IF you are just planning on getting a job then your starting salary will be from Rs.22,000 onward.If you try and start your own consultancy then the possibilities are endless because each domestic tour package starts from Rs 15,000 ad each International Tour starts from Rs.30,000.You do the math.
8.Bsc in Aviation
This is a relatively new course in most state universities.In mumbai university which is one of the best in the country,it is offered by tying up with a third party flying club.The course structure as well as the practical training both will be conducted by this flying club due to the resources and infrastructure they are providing.
What is the best part of this course?
The curriculum of theory papers as well as the practical sessions are almost the same as a normal flying course that gives you a student private license.You can take this a step further and apply for a Commercial Pilot License also later.But the best part of this is that apart from earning a flying license,you also get a B.Sc degree which is a graduation degree.
9.MBA Aviation Management
All Airlines need financial planners working in their corporate offices that manage the economics of the company.This includes  planning,operations,analysis,decision and policy making for different aspects of the airline.This post graduate course in Aviation Management is for people who will work in the background in  a office,but still play a big role in the airline.
Scope – Major airlines as well as privately owned aviation companies dealing with ground handling services,ramp services,jet fuel operations as well as airports will give you a job.It is a highly specialized job and you will surely get a job as a fresher without any problem.
You can expect a salary of atleast Rs.30,000 to begin with,and since you are directly connected with the airline,you will also get all perks included like free air tickets etc.
10. Aeronautical engineer
You can get into the aviation industry by working directly with the big aircraft.There is lots of work for an Aeronautical engineer which includes design,manufacturing,production and testing of engine parts as well as electrical and mechanical fittings.
About the course – You need to do a four year B.E or B.Tech from any engineering college.The course curriculum will focus mainly on aspects of electrical,mechanical and automobile subjects which have lots in common.Due to alot of Applied Mathematics and Engineering Drawing,this course is one of the mot challenging to clear from other engineering branches.
Scope – You can expect employment from all small aircraft servicing companies as a fresher.Other bigger players like Hindustan Aeronautics Limited and others that mostly conduct aerospace activities will also hire you because of lots of job profiles.Expect a starting salary of anywhere from Rs.27,000 to Rs.32,000.
+ Scope and course details of an Aeronautical Engineering job
11.IAF Flight officer
As an Officer in the Indian Air Force,you wont be flying a commercial jetliner,but a military one.There are instances when officers after finishing their commissions in the Air Force leave and join private airlines for huge salaries.
Most people think that this job is only open to men,however since the last 2 years,women pilots are also being commissioned into the IAF.
How to get into the course – After 12th Science,you need to join the NDA for training for three years.After this you will be sent to the Indian Flying Academy where you will begin live training.In three years in the NDA,you will be trained as  a general military officer and will even be taught a little combat training and physical endurance.
Everything from getting into the NDA,to clearing it,to making it to flight academy is difficult.There is  a PABT test -before NDA admission – which checks your aptitude in stressful conditions inside a cockpit.This test is administered to you only once,and if you fail it,you cannot continue to the SSB round of interviews.
Scope – Being an Officer in the Armed Forces of India is not only a prestigious and patriotic thing,but also very highly earned position.Its extremely difficult to become an officer through the NDA cadres,because the competition is so high,and conditions of admission so strict.
As far as salary and perks go – Even a junior flight officer can earn Rs.55,000 a month + accommodation,rations,etc.You will live like a king as an officer and get tremendous amounts of respect.
+ Read the full article on How to join the Indian Air Force as a fighter pilot